SERVICE AGENCIES
5 Bridges is dedicated to serving organizations that support those who need wellness programming the most.
Frequently Asked Questions
Agencies
Will you help us find funding?
---
Absolutely! We can provide logic models, lessons learned, templates and case studies to help you sustainably fund 5 Bridges. Just reach out and we'll walk you through the process.
---
Will you help us with marketing / distribution?
---
Absolutely. We can prvoide live talks, hosted webinars, designed cobranded social graphics, written email copy, and more. Basically, we do the "heavy lifting" so that you can focus on doing what you do best— serving your community!
---
What is the Member / Participant experience like?
---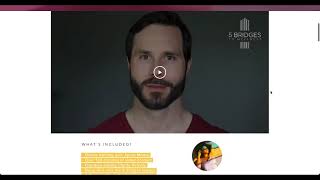 Just like their wellness journey, every Member's experience is unique and customizable. Everyone in your service area and community will have full access to our online course, live and on-demand workshops and coaching. Watch this video for a look at the Member portal.
---
What's in the Agency Portal?
---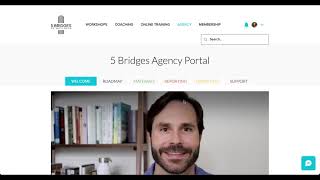 ---
What's in the Coach Portal?
---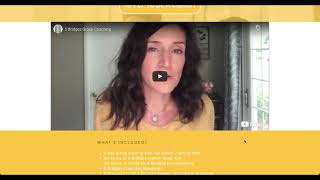 ---
What about HIPPA?
---
We never ask you to share your client information with us. All site usage reported to you from your community is anonymous. Since we don't collect any medical information, we are not obligated to comply with HIPAA regulations. Despite this, we voluntarily submit to audits and reviews just to make sure we're doing our part.
---
Do you provide usage data or success metrics?
---
Yes. On a quarterly basis, we report the total number of users from your group, how many of your group's codes have been redeemed, location data, number of sessions, and more. We combine this with the data you report to us for your grant and compliance purposes.
---
Who can we use 5 Bridges for?
---
Anyone withing your service area can use 5 Bridges— clients, staff, community, or anyone else not directly paying for your services.
---
How much does it cost?
---
Depending on your needs and the size of your service area, we have options begnning at $2,500. Reach out for an Agency Discovery Call to discuss our service packages, license fees and Coach Training options.
---
---
Coaches
---
Members
---
Upgrade your wellness in live and on-demand experiences on a variety of topics. This strategic mix of lived-expertise, focused discussion and activities will provide the tools you need to supercharge your wellness!
Our virtual group coaching sessions guide you through the 5 Bridges program from start to finish. Gain clarity through our evidence-informed curriculum, supported by certified coaches in this deep dive program.
Learn the 5 Bridges system at your own pace through our video course. You'll get the full training materials and access to the supportive 5 Bridges community right from home or on-the-go on your mobile device + one bonus workshop!